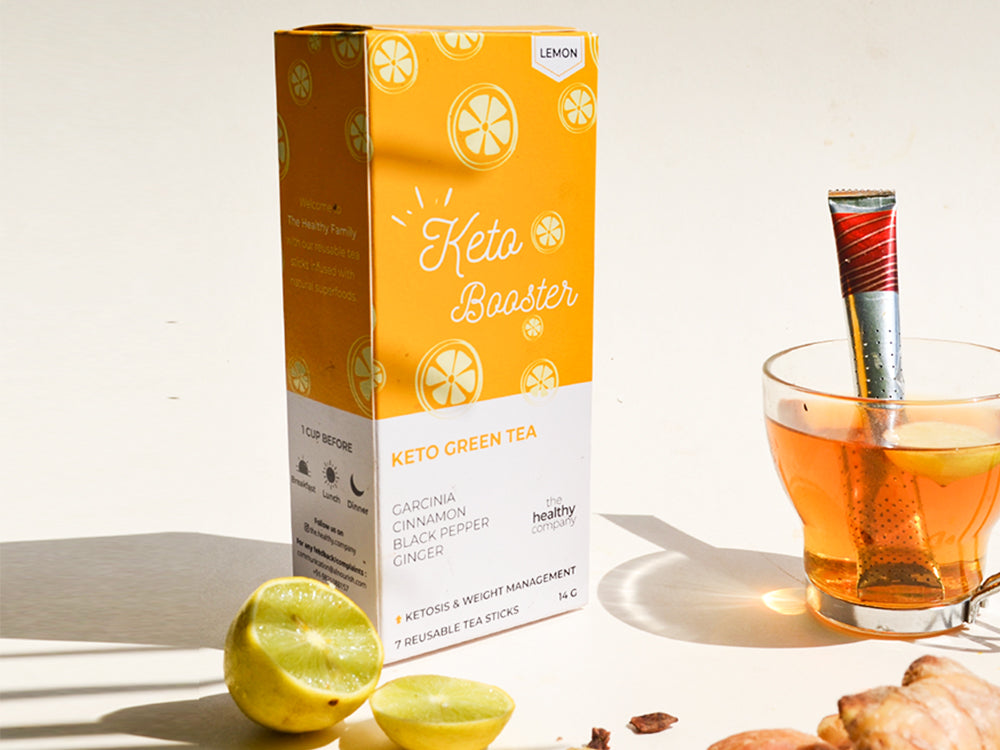 Clinically proven results
30% Higher Metabolic Rate
20% Faster Fat Absorption
50% Reduction in Bad Cholestrol
60% Reduction in weight with PCOS/ PCOD
Let customers speak for us
it's not profitable for me my hair is still falling out
it's not profitable for me my hair is still falling out
Best product with valuable prize
very best product for hair nice taste loved the product very well and the quality of the following is a point on the market and the rise of the following is a point on x and the rise of the following is undergo best product for hair loved the taste of product
Helped me get a natural glow
Highly Recommended, Works really Well
Really effective and very tasty.
Hair looks healthy and shiny after consuming this.
Frequently asked questions
HOW DOES IT WORK?

The Keto tea contains Garnicia, Ginger, Black pepper and Cinnamon all of which promote Ketosis. Ketosis is proven to promote fat loss by utilizing the body's stubborn fat
IS IT SAFE FOR NEW MOTHERS?

Yes! It is safe for new mothers. Many have lost post-pregnancy fat with this plan.
WHEN CAN I CONSUME THE KETO TEA?

The tea can be consumed twice daily. It can either be consumed before meals or even alongside meals
HOW MUCH WEIGHT CAN I LOSE?

We have seen people losing around 4-8 kilos in one month. For best results we recommend continuing the tea for one month and following flexible diet plans by EVA!
DOES IT CONTAIN ADDED CHEMICALS?

NO! All our products are 100% natural with no added chemicals and sugar. They are plant based and FSSAI approved.
How Garcinia Cambogia Can Help You Lose Weight and Belly Fat

Garcinia cambogia is a popular weight loss supplement.

It is derived from a fruit of the same name, also called Garcinia gummi-gutta or Malabar tamarind. | Read More
Phytochemicals and bioactivities of Garcinia gummi-gutta

Over the past 20 y, higher-protein diets have been touted as a successful strategy to prevent or treat obesity through improvements in body weight management. | Read More
Garcinia cambogia for Weight Loss

In their study evaluating the weight-loss potential of (−)hydroxycitric acid (HCA) derived from Garcinia cambogia, Dr. Heymsfield and colleagues1 cite our HCA work. | Read More
A comprehensive scientific overview of Garcinia cambogia

The fruit rind of Garcinia gummi-gutta, commonly known as Garcinia cambogia (syn.), is extensively used traditionally as a flavourant in fish curries due to its sharp sour taste. | Read More