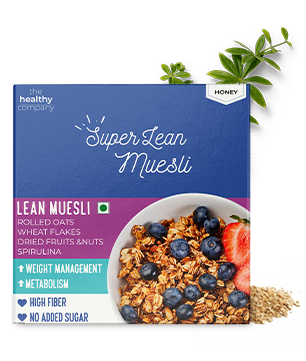 Clinically proven results
30% Higher Metabolic Rate
20% Faster Fat Absorption
50% Reduction in Bad Cholesterol
60% Reduction in Weight with PCOS/PCOD
Frequently asked questions
HOW CAN HAVING SUPER LEAN MUESLI MANAGE WEIGHT?

Super Lean Muesli is a scientific blend of Spirulina, Oats & Almonds. Extensive research on Sprilunia has proven that it helps boost body's metabolism which in turn accelerate body's fat absorption leading to sustainable and visible weight loss
DOES IT CONTAIN ADDED SUGAR?

Your Super Lean Muesli contains 0 ADDED SUGAR. The secret of this tasty muesli is the natural sugar that is inherent in dry fruits and nuts that are added in it.
WHEN SHOULD I EAT THE SUPER LEAN MUESLI?

We suggest having a bowl of muesli in your breakfast or as a snack. Though our Super lean muesli is scientifically designed to be used as a healthy alternative to unhealthy junk that our body craves. It's low on calories and contains no added sugar so that you can enjoy it whenever you want!
Spirulina maxima Extract Reduces Obesity through Suppression of Adipogenesis and Activation of Browning in 3T3-L1 Cells

Obesity predisposes animals towards metabolic syndrome and diseases such as type 2 diabetes, atherosclerosis, and cardiovascular disease. | Read More
The role of protein in weight loss and maintenance

Over the past 20 y, higher-protein diets have been touted as a successful strategy to prevent or treat obesity through improvements in body weight management. | Read More
L-phenylalanine releases cholecystokinin (CCK) and is associated with reduced food intake in humans

Obesity predisposes animals towards metabolic syndrome and diseases such as type 2 diabetes, atherosclerosis, and cardiovascular disease. | Read More
Marine cyanobacterium Spirulina maxima as an alternate

The serum is a stable medium supplement for in vitro cell culture. Live cells are used in stem cell research, drug toxicity and safety testing, disease diagnosis and prevention, and the development of antibiotics, drugs, and vaccines. | Read More