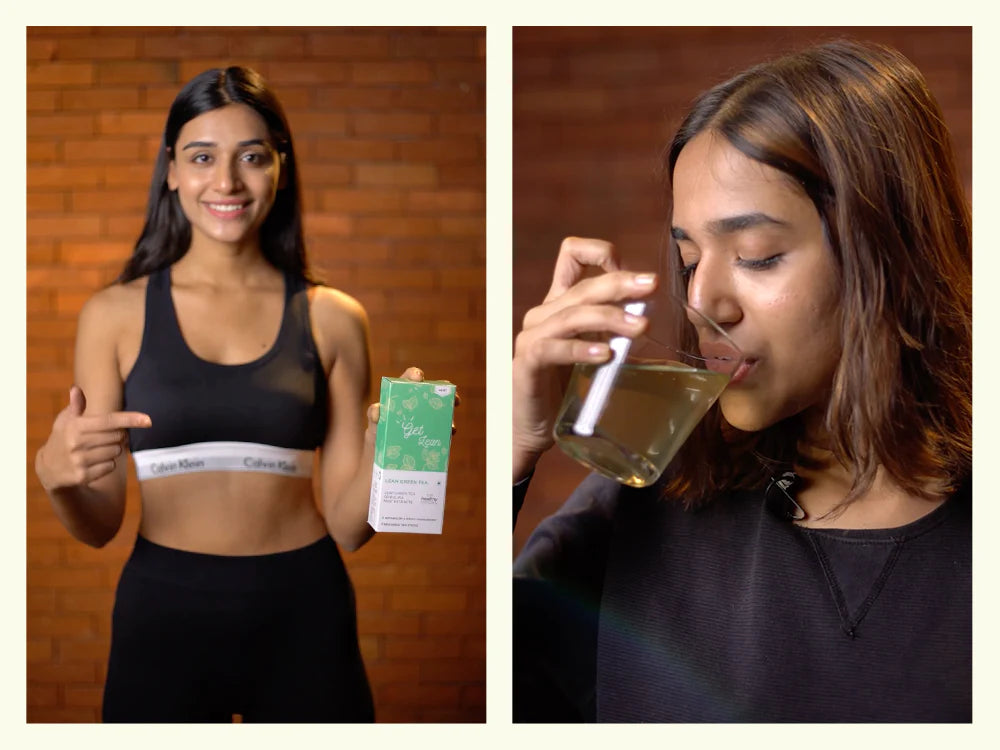 Clinically proven results
30% Higher Metabolic Rate
20% Faster Fat Absorption
50% Reduction in Bad Cholesterol
60% Reduction in Weight with PCOS/PCOD
Let customers speak for us
Frequently asked questions
IS IT VEGAN?

YES! All our products are plant based and 100% Vegan.
WILL IT HELP WITH MY ACNE AND HAIR LOSS?

The Detox tea works by flushing out toxins out of your body restoring your skin's health. The high-protein content has also resulted in lustrous hair with less hair loss.
WHAT MAKES THE LEAN TEA HEALTHY?

The lean tea has NO ADDED sugar and contains a 100% Spirulina blend. The tea is high in protein which also provides a shield against infections. The ZERO fat content and organic fat burning superfoods makes it a 'Go-To' choice for those looking for weightloss and maintenance.
IS IT SAFE TO CONSUME WITH PCOS, THYROID, DIABETES?

YES! In fact, we have seen amazing results in people with PCOS, Thyroid and Diabetes. Women have also reported a reduction in their PMS pain!
IS IT SAFE FOR BREASTFEEDING MOTHERS?

Yes! It is safe for new mothers. Many have lost post-pregnancy fat with this plan
Spirulina maxima Extract Reduces Obesity through Suppression of Adipogenesis and Activation of Browning in 3T3-L1 Cells

Obesity predisposes animals towards metabolic syndrome and diseases such as type 2 diabetes, atherosclerosis, and cardiovascular disease. | Read More
The role of protein in weight loss and maintenance

Over the past 20 y, higher-protein diets have been touted as a successful strategy to prevent or treat obesity through improvements in body weight management. | Read More
L-phenylalanine releases cholecystokinin (CCK) and is associated with reduced food intake in humans

Obesity predisposes animals towards metabolic syndrome and diseases such as type 2 diabetes, atherosclerosis, and cardiovascular disease. | Read More
Marine cyanobacterium Spirulina maxima as an alternate

The serum is a stable medium supplement for in vitro cell culture. Live cells are used in stem cell research, drug toxicity and safety testing, disease diagnosis and prevention, and the development of antibiotics, drugs, and vaccines. | Read More